Creepy Dog Mask
Eagles Fans are encouraging everybody to wear the creepy dog masks to the Super Bowl on Sunday February 4th 2018.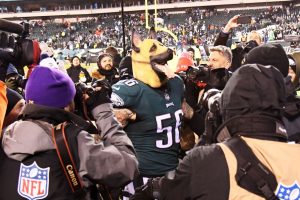 Lane Johnson and Chris Long were the primary actors of the underdog, and it all came together in the middle of a lunch session where they weren't the favorites to win against Atlanta.
"Me and Chris Long were talking, and everybody's calling us underdogs, so hey, let's go get us a dog mask," Johnson said via Tim McManus of ESPN. "That's what we did."
When the Eagles won the game over Atlanta 15-10 the two guys appeared after the game wearing the masks and Eagles fans went nuts.
Now it's the eagles fans turn and all masks are almost sold out luckily we got a few left.
Let's keep the underdog spirit alive and get yourself a nasty and creepy looking dog mask for the Super Bowl. The dog masks looks really good in combination with a midnight green Eagles jersey:
There are at least hundreds of Eagles fans who own one of these creepy dog masks. What do you do with one do with a creepy dog mask? You wear it like Lane Johnson and Chris Long does to a football game, obviously.
Again we are encouraging everybody to to wear them at the Super Bowl.
As seen on TV: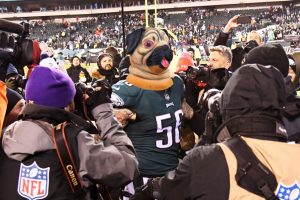 The Eagles are the official underdogs of the 2018 SUPER BOWL, having vanquished the mighty Atlanta Falcons in the divisional round Saturday night and crushing the Minnesotea Vikings on Sunday we are ready to wear the creepy dog masks again to remind everyone that we relish the role as underdogs. The dog mask  will be in full force again during the Super Bowl, with the Eagles coming in as underdogs to the New England Patriots.