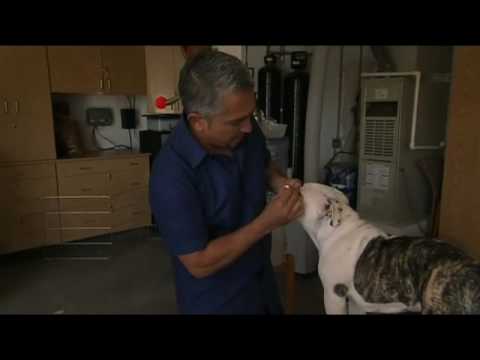 Ladies and gentlemen, say hello to General George Washington! Not to be confused with the first president of the United States, this president is one of the members of Cesar Millan's puppy pack. Also known as Mister President, he is your typical English bulldog.
Health Issues of Mister President
English bulldogs require special attention and grooming due to some health issues related to the breed. Every day, the folds on the face of English bulldogs must be cleaned to prevent infections. Moisture may accumulate within the folds on the face the bulldog; consequently this can become a breeding ground for germs that could infect the dog.
Another health issue with Mister President's breed is overheating. English bulldogs easily overheat due to its short stubby face. Because of this, Mister President, like most English bulldogs, are prone to dehydration. If you have a bulldog, it is important to keep them hydrated and to watch out for signs of dehydration especially during the warmer seasons.
Training Mister President
As for exercise, English bulldogs would benefit from short walks as compared to huskies that require long-distance runs. During playtime, English bulldogs would rather go for short bursts of running and tire easily.
Like most English bulldogs his age, Mister President is already displaying rough bullying behavior "a common breed-related issue. However, with proper leadership training, Cesar Millan says, and with proper socialization among other canines, English bulldogs are able to overcome this bullying attitude.
Despite some breed-related issues, English bulldogs are fun and lovable canines. Their appearance might seem threatening, English bulldogs are considered to be among the gentle breeds, even when around small children. Affectionate and dependable, they can be playful and also possess great guarding instincts. English bulldogs, like Mister President, are a very determined and persistent breed. No wonder why they are sometimes referred to as '˜bullheaded'. With lots of care, attention, and proper leadership training, breed-related issues can be overcome among English bulldogs. They may look menacing, but they are eager to please and show affection to their humans.