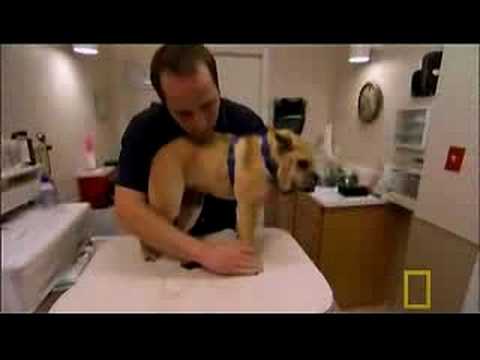 Wiggles, a year old Bulldog pup was picked up by Animal Control. They immediately noticed that something was wrong with him. Wiggles falls frequently and can't control his bowels. This bulldog with unusual symptoms put his chances for an adoption near to "0". To find the right home for this disabled bulldog the Veterinarian must determine if the Bulldog suffers from a life threatening illness or that his living conditions are manageable. This bulldog with unusual symptoms might be the result of bad inbreeding technique. He was found near a Bulldog breeder. Some Dog breeders often use these inbreed techniques to guarantee desirable traits but this technique can also limit the gene pool and can lead to symptoms like the one Wiggles displays. Dr. Mike's first goal is to determine if Wiggles' condition is neurological.
Wiggles is put through a battery of diagnostic tests. Veterinarian Mike discovers a disconnect between the nerves and Wiggles foot and brain indicating a problem with the neurological system.
Wiggles blink response indicates a normal function of the cerebellum, the part of the dog's brain that controls the balance so X-Rays are made of his spine to reveal if there is a spinal problem, the results are negative. With the severe brain or spinal injury ruled out, it is likely that the this bulldog mix was born with a genetic defect most likely due to due to bad inbreeding.
Finding a family for bulldogs with these occurring symptoms will take some time.