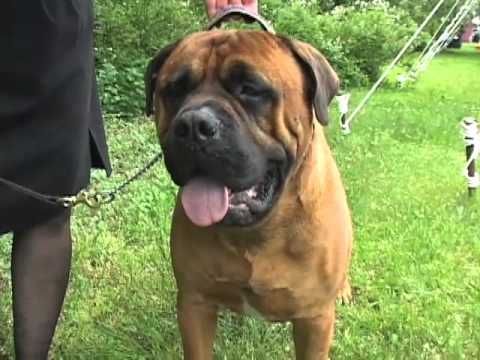 The bull mastiff breed was founded in around the 19th century when breeders in England crossed the bulldog with the mastiff. Back in those days, dogs were bred for a certain function such as retrieving, herding, guarding, and even hunting. The bull mastiff was originally bred as guard dog, and it is one of the most reliable, and formidable, guard dog breeds today.
Crossing the Atlantic to the United States in the 1920's, the bull mastiff became one of the most popular breeds due to the breed's rich and powerful patrons. Like its patrons in England, the dog was used as guard dog in large estates owned by the rich during those times. Aside from their popularity, the breed's great guarding skills have made them a valuable addition to the staff that kept these estates free from trespassers.
While trespassers and intruders see the bull mastiff as a force to be reckoned with, owners and breeders will find this breed to be one of the most gentle and affectionate. When raised well, the bull mastiff can be a great family dog and is highly tolerant even of small children.
If you're looking for a bull mastiff for a new pet or guard dog, there are a few things you should know. Because the bull mastiff is a hefty breed, they require obedience and leadership training. It is also recommended that when owning a bull mastiff, the owner should be assertive, firm, and consistent in the rules he set with the dog. The bull mastiff should learn, at an early age, to never pull on the leash or walk in front of his human. Because of its sheer size and strength, the last thing you want is him pulling you across the street with your hand on the other end of the leash.
The standard height and weight of a bull mastiff can range between 25 to 27 inches and 100 to 130 pounds respectively. And like all large breeds, the bull mastiffs are also prone to hip dysplasia. Thus they also require good nutrition that will strengthen their bones and joints.