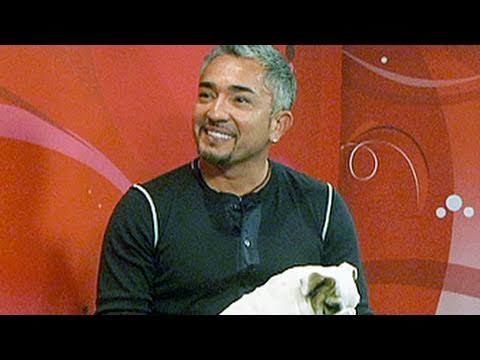 In this particular episode of The Dog Whisperer, Cesar Milan encounters a very aggressive English bulldog. While his aggression is directed to furniture and not humans, this behavior is still unacceptable and must be corrected before it escalates. One way of correcting this behavior, as Cesar Millan shows, is by being calm-assertive and teaching your dog how to be calm-submissive.
Let's face it, our bulldogs aren't exactly masters of the English language. However, they come to understand us through our body language and the energy we project. So what should our body language be? If you watch The Dog Whisperer, you'll notice how Cesar always points out the importance of body posture in dealing with any type of dog. And if you notice among a pack of dogs, the alpha male always moves with a certain authority in his body language.
The alpha male exudes a calm and assertive energy. Through this kind of energy he is able put all the other dogs in a calm and submissive state without having them challenging his status. In the same way, if you want to effectively put your dog in a calm and submissive state, understand how the pack system works and mimic how an alpha male responds to the other dogs in his pack.
As you move along and becoming calm and assertive, you will slowly see how your bulldogs become more calm and submissive. Like the family with the aggressive bulldog problem, you will notice in the attitude of the dog by just having that calm and assertive energy in you. In the video, the bulldog immediately responds to the warnings of the father and the daughter when they want to stop the dog from attacking the blinds and the lamp. You will also notice that the bulldog's energy has changed. At the end of the segment, the bulldog becomes more calm and submissive even if he is faced with a lamp shade and moving blinds.